Speaking and Training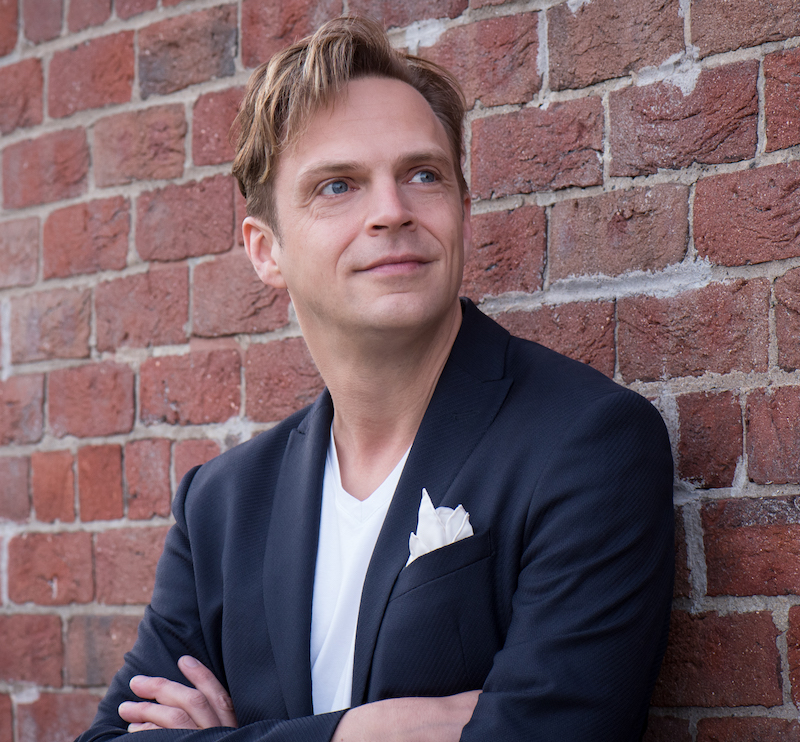 "Absolute best talk of the day. Well done to the organizers for getting such a captivating speaker to close out the conference."
Andrew Burke has over two decades of development and technology experience, but he also has a graduate degree in literature and a life-long fascination with history. This gives him insights into the growing intersection of technology and culture. He has spoken and keynoted at conferences and events across North America for over a decade. Here are some of his current and recent talks.
Recent Speaking Engagements
CLOSING TALK "Punk Rock Software" at Maritime DevCon, Fredericton June 2023
"Halifax Burger Week and Punk Rock Software" and "Aspects of Accessibility and Software for Theatre" at ConFoo Montreal, February 2020
Workshop on This Is Nowhere and the NowHere platform at the FoldA conference, Kingston Ontario, July 2019
CLOSING KEYNOTE "4 Weird Things About Time" at Targeting Quality, Kitchener-Waterloo Software Quality Association, September 2018
"This is Nowhere: Mixing Location, Augmented Reality, and Live Performance" at PodCampHalifax, January 2018
"How I Finally Discovered the Magic of Ruby" at ConFoo Vancouver, December 2017
"4 Weird Things About Time" at ConFoo Vancouver, December 2017
"How I Finally Discovered the Magic of Ruby" at Maritime DevCon, May 2017
"4 Weird Things About Time" at ConFoo Montreal, March 2017
"How I Finally Discovered the Magic of Ruby" at ConFoo Montreal, March 2017
HTML 150 Introduction to HTML at Halifax Public Library, August 2017
Intro to Web with Lighthouse Labs, teaching part-time courses and Bootcamp, October 2016 - present
Four Weird Things About Time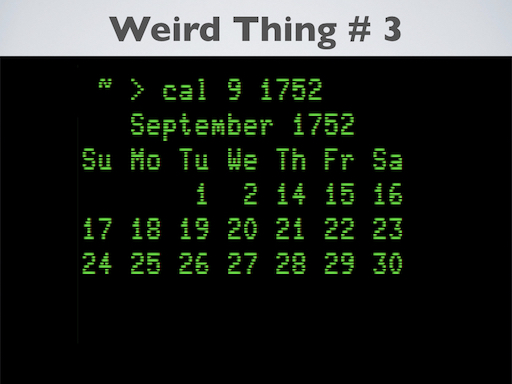 Have you ever wondered why OCTober has an eight in the name but it's the tenth month? Why some clocks from the late 19th century have two minute hands? And what's up with Easter anyhow?
This entertaining talk covers thousands of years of the history of calendars and clocks, exploring how emperors, kings, and whole nations wrestled with technical and cultural headaches that are surprisingly similar to what we deal with in the worlds of techology and software. It provides surprisingly pertinent take-aways for developers and technologists.
This talk makes a fun change of pace for a technical conference, especially as a closing keynote.
"Four Weird Things About Time" has been presented at self.conf in Detroit, ConFoo in Montreal and Vancouver, Maritime DevCon in Fredericton, and was the closing keynote at the "Targeting Quality" conference, Kitchener-Waterloo in September 2018.
This Is Nowhere: Theatre, Mobile Technology, and Parallel Worlds-as-a-Service
In 2018, I worked with Halifax's Zuppa Theatre to provide apps and server-side software for an innovative multi-location theatre project called "This Is Nowhere". The app, fed by a custom web-based CMS and audience tracking system, led participants on a GPS-guided scavenger hunt for hidden performances in a dozen locations around downtown Halifax. This was unlike any other project I had worked on before, and I learned a lot in the process, about React Native, UX, rapid prototyping in JavaScript/HTML, GPS and location services, accessibility, the crossroads of technology and culture, what it's like being the only software person in a huge theatre production, and much more.
This project spawned three different talks: the first from early in the project, explaining some of my early thoughts about the project, including a survey of technology and theatre, and some Augmented Reality demos. The second talk was about a spinoff project recreating the 1904 Dublin of James Joyce's "Ulysses" in Halifax by turning it into an app-based scavenger hunt. The third was a wide-ranging talk after the project finished, discussing the development process, lessons in UX and accessibility, and much more.
You can see the talks all together in this blog post. Anything mentioned in any of these talks can be expanded into its own standalone topic.
Halifax Burger Week and Punk Rock Software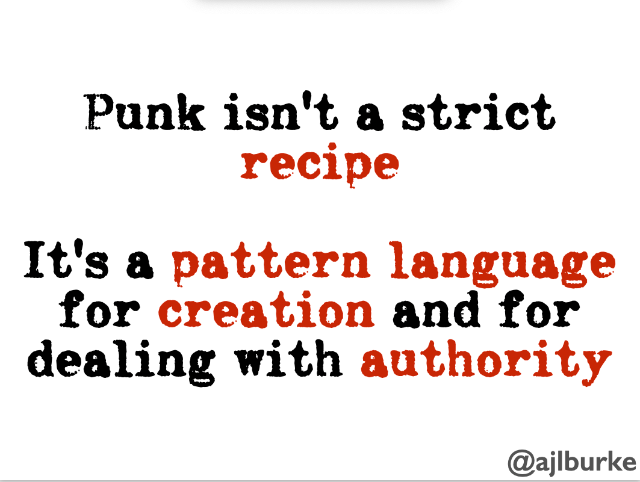 Every year, Halifax puts on Burger Week where restaurants create special burgers to raise money for charity, and every year they make a big bloated hard-to-navigate website for it. Also every year I make my own version of the burger week directory and I try to make it as small and fast and useful as possible. It's my version of the Ramones doing 90 second songs in a world of prog-rock double albums.
This wide ranging talk explores the two poles of software development by comparing them with the two poles of music: big and bloated, and quick and to-the-point. It includes the surprisingly parallel histories of popular music and computer technology from the mid-1970s to today, some practical tips for bringing speed and impact to your own software work - and of course a whole lot of burgers and tunes.
This talk was the closing presentation at MaritimeDevCon 2023 in Fredericton NB, and was also delivered at self.conference in Detroit in 2019 and ConFoo Montreal in 2020.
How I Finally Started Using the Magic of Ruby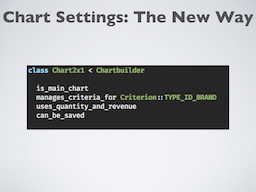 One of the great things about Ruby and Rails is that they mostly stay out of the way so programmers can focus on solving business problems. I had always known that there was a lot more power in Ruby, especially with its powerful metaprogramming tools, but I've never had a project where lots of fancy tricks wouldn't just make things harder to understand. Recently I did get the chance to work on a large complex project where I could use some of the magic of Ruby to help make things much more manageable.
This presentation goes beyond the simple unrealistic examples one sees in textbooks and shows how how a Ruby's unique power and elegance turned a potential code nightmare into something approaching poetry.
This talk has been given at ConFoo Montreal and Maritime DevCon in Fredericton in 2017.
Adventures in Micro-Fame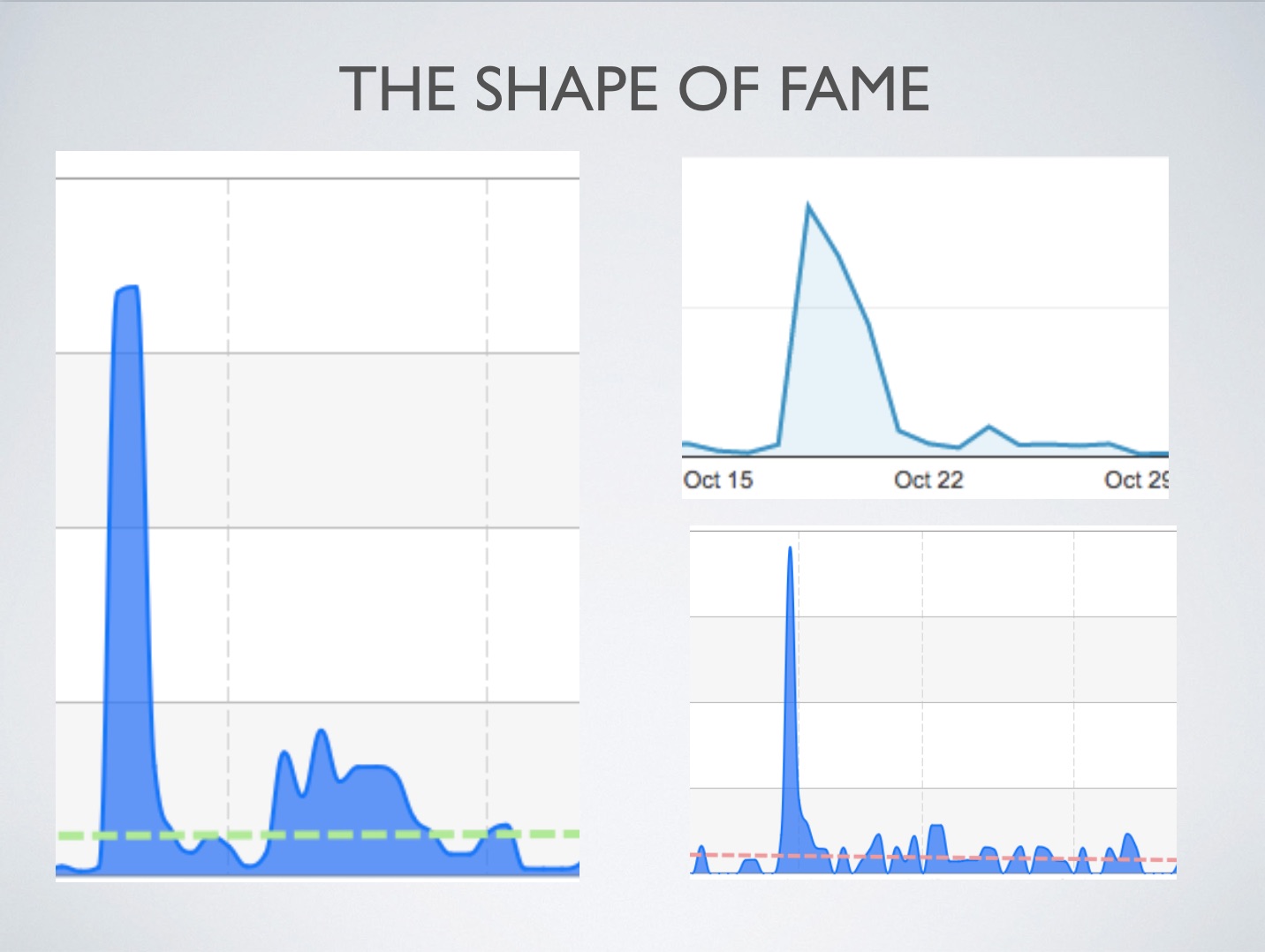 There used to be a "fame contract": you would become famous and lose your privacy and attract weird attention, but to make up for it you would become rich and influential. In our modern world of social media this contract has been broken. You can become famous and attract all the good and bad attention that come with it without really making much money or getting any of the support that famous people used to get. A lot of our cultural attitudes haven't caught up with this reality yet.
This talk discusses the new world of fame and especially "Micro-Fame" - where almost anybody can become famous in their own niche, sometimes even by accident. It talks about the "spikiness" of online fame as well as how you can leverage your micro-fame into if maybe not fabulous wealth at least more attention and personal fulfillment.
This talk was part of a series of talks about social media given at PodCamp Halifax. An updated version was given at BlogJam Halifax in 2017.